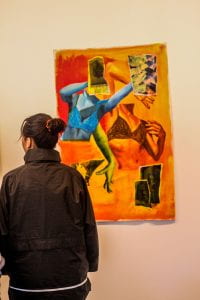 Last Thursday on the 15th of September us Mana Ako kids got the chance to visit an exhibition in Ōtara! It was called the Fresh Gallery!
Some things I want to mention from this trip is the amount of respect we got from the staff, their names were Dema and Rachel!
Huge respect to them as they were able to boost my taste in different types or arts!
Another highlight I wanted to mention was an art piece mostly portraying a females body which was named 'Kagi' by an artist named Nita.  It may seem a little inappropriate to mention but I really do think that was a good idea, because of the contrast of all the colours and how different the dimensions felt! The mediums the artist used were quite unexpected, she used oil paint + oil pastel + a layer of acrylic on the canvas!
But the overall conclusion is that I really did enjoy my stay there, and if I was someone to be a judge or even a person walking by I'd definitely rate this a 5/5!